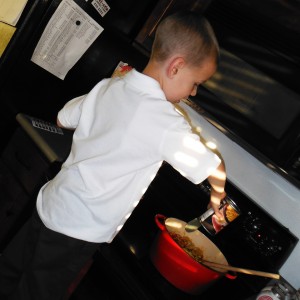 Each week, my kids take turns making dinner with me.  I love it because I get to spend quality time with them teaching them something I love and they love it because they get to choose anything they want for dinner (within reason).  This week, my son chose pasta shapes with corn.
We used a roasted tomato sauce recipe that we had made last summer. And oh, oh, oh, was it so yummy and sweet!
We used gf shaped pasta similar to this one and added a can of corn and a few dashes of soy Parmesan cheese.