My kids get to choose a recipe to make with me once a week and we call it "Cooking with Kids".  Today my son chose shaped eggs.  They are so easy to make and so yummy!  All you need is an electric griddle and some egg shapers found here, here, and here. We actually purchased the Mickey Mouse Egg Shaper at Disneyland, but if you won't be in that area any time soon, you can buy it on Amazon or check ebay.  Not only can you make eggs with the shapers, but you can also make pancakes with them.  We have done both with very good results.  I thought the eggs would seep through the shapers because they are thin the way I make them, but they didn't and they cook very quickly, in about 2 minutes.
How to Make Shaped Eggs
Preheat  electric grill to 325 degrees.
Spray grill and shapers with cooking spray.
Make egg mixture by whisking 6 eggs, 1/4 cup milk of your choice (I used unsweetened almond milk), 1/4 cup chopped bacon (optional), and salt and pepper.  This should make at least 10 egg shapes.
Place just enough egg mixture to fill the bottom of the mold.  Cook for 30 seconds to a minute and then flip and cook the other side for about 30 seconds.  That's it!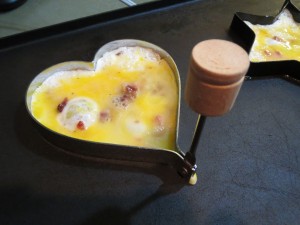 Serve with ketchup faces and any other sides you wish.  I made some fried potatoes and some sausage for a mouth.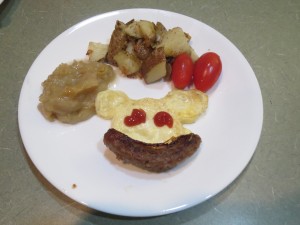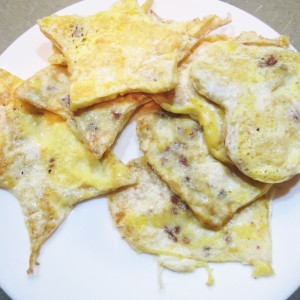 If you have any questions, please post a comment and I will answer it as soon as I can.  Enjoy, this is such a fun meal for kids!