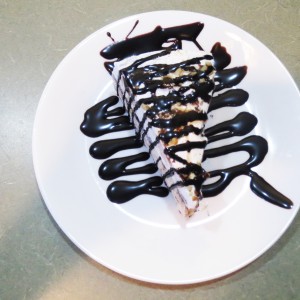 I needed a dessert to make for my husband for Father's Day.  He had been asking me for years to make him an ice cream cake, and I always thought they were hard, so I resisted and never made one.  I decided when he was away for the evening at a meeting that now was my chance!
I made up this ice cream cake recipe as a compilation of several that looked good but seemed to be missing a component (like the crust, or sauces, or nuts) and we really like all of those things and we like them together.
As far as I'm concerned, this cake is ice cream heaven and it went over well at the family Father's Day celebration and the next night at our Family Home Evening.  I actually wasn't able to try it because I am allergic to gluten and dairy, but everyone who ate it told me it was delicious.  I will spend some time later in the summer formulating a recipe that is gluten free dairy free (GFDF) but for now, this recipe is the one I have!
Ingredients
2 cups crushed Oreos
1/4 cup melted butter
1/2 gallon chocolate chip ice cream
1 jar hot fudge sauce
1/4 cup dark chocolate ice cream topping
1/4 cup caramel sauce ice cream topping
1 container Cool Whip
1/4 cup crushed peanuts
Instructions
Make a crust out of the crushed Oreos and melted butter by mixing in a gallon ziploc bag and shaking vigorously. Press down into the bottom (not the sides) of a locked 9" springform pan.
Soften the chocolate chip ice cream for about 15 minutes and then spread over the crust with a rubber spatula.
Drizzle the hot fudge in a layer over the ice cream. Drizzle some caramel over the hot fudge. Next, spread the Cool Whip over the top and drizzle the dark chocolate and caramel sauce toppings over the entire cake.
Finish off with some crushed peanuts on top.
Freeze overnight.
When ready to serve, let sit on counter for 3-5 minutes before cutting. Garnish with additional dark chocolate sauce if desired. Enjoy!
https://www.positivelymommy.com/2013/06/ice-cream-cake-recipe/
This is the Springform pan I used. It worked wonderfully. It's a 9″ pan.  I use this pan for cheesecakes as well and I've never had anything stick to it.
Please post a comment if you have any questions and I will answer them as soon as I can!