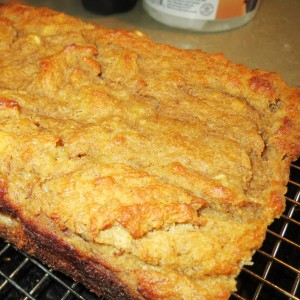 This sugar free banana bread was given to me by a dear friend and neighbor who has gestational diabetes when she is pregnant.  It is so moist and so sweet! I had no idea it was sugar free.  Best of all it's also gluten free and dairy free so it fits in perfectly with our family's needs.
It's made with coconut flour. I had never, ever used coconut flour, and boy was I impressed! I purchased my gluten free flours in the bulk section at my local Good Earth health food store, but as you can see, they can be purchased on Amazon or anywhere that sells health foods.  They are very healthy for you and are full of healthy fats and complete proteins unlike their wheat counterparts.
Soon after my friend brought me a sample of her bread, I had some bananas that were going brown and decided to make my own sugar free banana bread.  I then brought it to another neighbor who also has gestational diabetes.  She loved it and said it did not raise her blood sugar at all.  Success!
Ingredients (It is ok to double this recipe)
4 very rips bananas
1/3 cup coconut oil (considered the most healthy cooking oil there is – we use it for everything and it's great!)
1 egg (optional)
1 tsp vanilla
1 1/2 tsp cinnamon
1/2 cup coconut flour
1 1/2 tsp baking soda
1/4 tsp sea salt
Instructions
Mash bananas in your mixer until nearly liquefied.  Add all other ingredients in the order listed, beating slightly after each addition.  Pour into a well greased bread loaf pan and bake at 350 degrees for about 45 minutes.
Cool.  Then slice. Serve with a big dollop of Earth Balance buttery spread OR even better, try my favorite and serve this moist banana bread with a thick layer of peanut butter.  mmmm….  I think I need to make some more, this is making me hungry!