Chocolate is life.  I can't live without it!  I've been dairy free and gluten free for about 3 years now and I thought at first that I would have to give up chocolate altogether.  But, alas, no!  There are options out there for us allergy sufferers!  I wish I could have found a list of dairy free chocolate before I spent years doing research, but I'm happy I can help you find dairy free chocolate that actually tastes good too.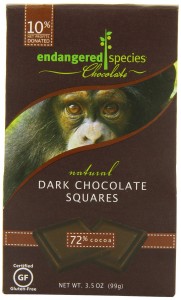 1. Endangered Species chocolate is one of my favorites. It's rich and chocolaty and doesn't taste waxy like some of it's counterparts. I like this particular one because it's wrapped individually so I don't eat too much. You can also buy it in a bar or in various flavors such as mint and cherry. Those are the ones I've tried, there are many more varieties. If you want to buy these locally, check at your local health food store.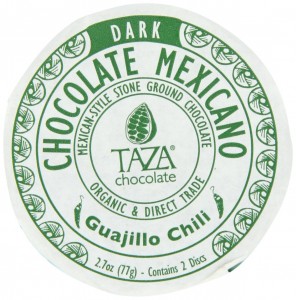 2. If you've never had Mexican chocolate, you are missing out!  I found this Taza Mexican Chocolate at a specialty store in Seattle and went back 3 times to buy more. It is so delicious and like nothing I have tasted before. I have tried all the flavors, but the Chili flavor is my favorite (it's just a hint of spicy and not overpowering). I also like plain and vanilla. These chocolates come in discs with triangles to break off.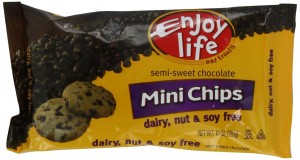 3. I use these mini chocolate chips all the time in ice creams and baking. I tend to like them better than the big chocolate chips, but that's probably just a personal preference. There are also chunk chocolate chips that you can buy for cookie bars (or for eating!). Ghiradelli makes a semi sweet dairy free chocolate chip that you can find at your local grocery store (a mini chip and a regular chip!). They are delicious!  You can also find them here.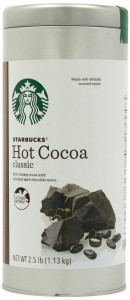 4.  If it's wintertime and you are just craving some comfort food (aka chocolate!), this Starbucks hot cocoa is thick, rich, and decadent when mixed with vanilla almond milk. My cannister has lasted almost 3 years. I have several friends who like this hot chocolate too.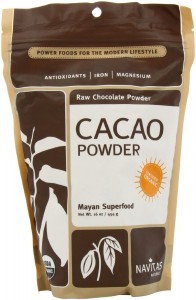 5. Cacao Powder is chocolate in it's raw, unprocessed form. It's a superfood and can be used in smoothies, ice creams, and to flavor whipped cream and other desserts. I use it regularly. If it is unsweetened, it's very bitter, so use it in recipes that already have sugar.  They also come in nibs which are little chocolate balls (again unsweetened) that can be added to desserts or ice creams. This is a very healthy form of chocolate to consume and should help to give you energy and vitality.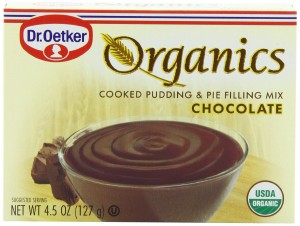 6. I use dairy free pudding in all of my gfdf cake and cupcake recipes to add a moistness and texture to the batter. I have tried to make the pudding from this box, but it tends to be a little runny when made with almond milk. I do find it useful to have around the house though.  This brand of pudding can be purchased at Whole Foods.  On the day I went it was on sale for .99 cents and I bough 20 of each flavor!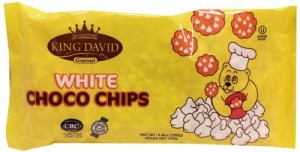 7. If it's white chocolate you desire, I spent a long time trying to find a white chip that tastes good and melts well. This vegan white chocolate chip really is great for dipping strawberries and for cookies and other baking. My kids like to steal them from the bag so you know they're good!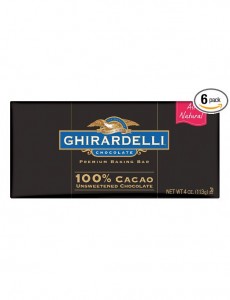 8. There are times when I have needed a baking bar and this one is bitter, but is great when added to recipes that already contain sweetener or sugar. Can you tell I like Ghiradelli?!  I don't think you will really need a 6 pack and this can be found at your grocery store.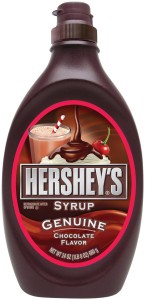 9.  If you eat a lot of ice cream sundaes or like to make chocolate milk, Hershey's syrup is gluten free and dairy free (GFDF). See ingredient list here. This can be purchased at your grocery store as well.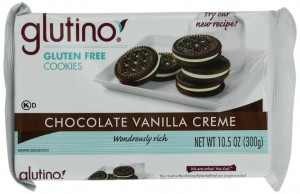 10.  If you're like me, a day can't go by without Oreos. I really like the texture and flavor of these Glutino chocolate cookies with a cream center (meant to taste like Oreos). They are pretty close! They also make dairy free chocolate covered pretzels that are tasty!
I hope this list helps you!  If I'm missing anything, please post a comment and let me know, I'd love to hear from you!
*disclaimer: please read all food labels before purchasing items you believe to be dairy free or gluten free.  Sometimes ingredients can change and we take no responsibility for product ingredients.  Be smart and still read those labels faithfully!