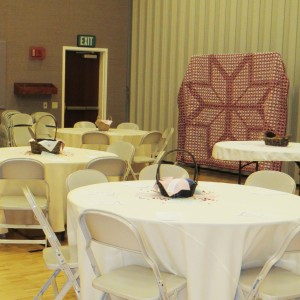 I searched all over the Internet for LDS Relief Society Birthday party ideas and came up with nothing!  That's why I'm posting this, so I can help give someone else an idea!  As a committee, we decided to do a quilting theme using the scripture Mosiah 18:21 from the Book of Mormon.  It talks about hearts being knit together in love and we used that as the basis for our planning.
We used the cultural hall as we expected about 60 people attending.  We borrowed beautiful cream colored and white fancy  tablecloths from a sister in our ward who has a wedding decoration business.  She took care of washing them too, which is a very nice service for her to provide.
We set up the night before so everything would be ready the day of.  We also pre-made handouts made from a square of quilting fabric and an embellishment with the scriptural theme on it.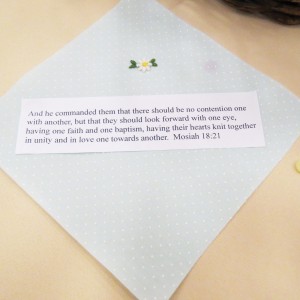 We decorated the tables with baskets donated by a member of our committee.  We then filled them with yarn that my daughter had from using knitting looms, and put the yarn in the middle and had the handouts spilling out.  We also used colored buttons as a decoration on each table as shown.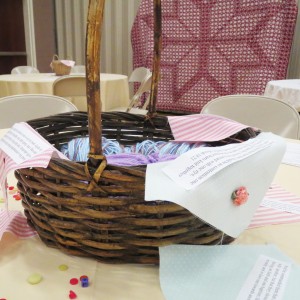 We used quilts from members of our ward to decorate the room with.  They were beautiful and added to the ambiance of the meeting.  We used straight pins to attach them to the bulletin boards and then brought in some easels from the library as well as a couple chalkboards to drape the quilts over.  Every available space had a quilt on it!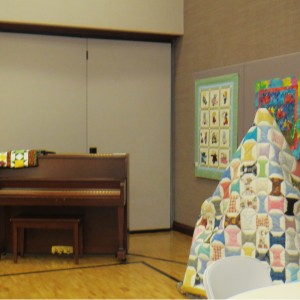 The program for the evening went as follows
Welcome
Opening song "As Sisters in Zion"
Opening prayer
Presentation of the theme and aims of Relief Society
Spotlight of new sisters this year in our ward
5 minute talk about how to have our "hearts knit together" in love
Dinner (we served potluck soup brought by RS sisters, breadsticks, birthday cake, and water)
10 minute talk about quilting through the generations and ties that bind us
Musical number sung by a ward member
Testimony: By the Relief Society President
Closing song:"Love One Another"
Closing Prayer
The evening went off without a hitch, it was well attended, and everyone was uplifted.  Make sure you have access to a microphone in the gym, as it was much needed for the talks and the singer.
I hope this helps you to plan your next Relief Society March birthday party!