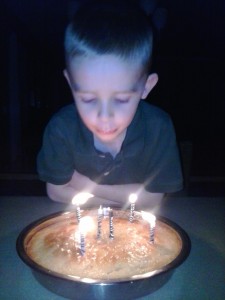 I love me a good cake.  This is a good cake.  So, therefore I love it.
My son wanted a gluten free lemon cake for his birthday, so I made this family favorite gluten and dairy free as well as vegan.  I can't say that it is "healthy" per se.  But, as far as desserts are concerned it's not bad.  It's good.  But we established that earlier, didn't we?
As you can see from the photo, there is no frosting on this cake.  BUT, don't balk because there is a lemonade glaze made with powdered sugar and condensed lemonade that is very tasty and moist.  You won't even miss the frosting, I promise!  It's that good.
Here's how you make it
1 box white gluten free cake mix
1 tsp. lemon extract
1 6-oz can frozen lemonade concentrate, thawed
3/4 c powdered sugar
Heat oven to 350 degrees. Grease and flour a 9″ round pan. Prepare mix as directed on package – except substitute 1/3 c of lemonade concentrate for 1/3 c. of the water and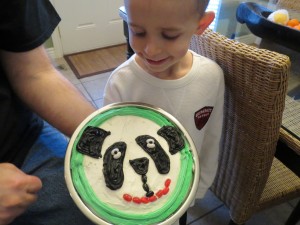 add in lemon extract. Pour batter into pan and bake as directed. Cool for 15 minutes. Mix remaining concentrate and the sugar. Prick warm cake with fork; drizzle lemonade mixture over cake. Serve warm or cool.
My son also got a panda cake for his birthday (for a celebration on a different day.  Please don't tell him I did a horrible job on the decorating, because he thought it was awesome!
Happy birthday little buddy!
If you have any questions about how these cakes were made, please feel free to leave a comment and I will answer it.  Also, you can make this cake NON-gluten free by substituting a regular cake mix and using a 9×13 pan.  Enjoy!