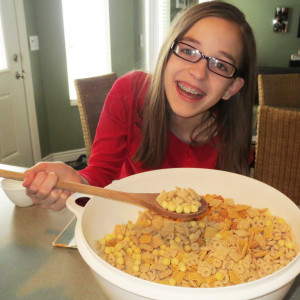 Party mix is a big Christmas tradition on our family and I have perfected a really good gluten free party mix recipe (also dairy free too).  It's so good, I don't even miss the other kind. It's crunch and salty and adds variety to our usual gluten free snacks.  I doubled the recipe and it made a whole bunch.  It took us less than a week to eat it all though~
If you need help finding the gluten free ingredients, please check out these links.  I generally buy in bulk and store the extras in my food storage.  This saves about 25% off of what they cost at my local health food store.  Also, in this recipe, feel free to use "off brand" Chex cereals, it tastes just as good.
Gluten Free Pretzel Sticks.
Gluten Free Bagel Chips.
Gluten Free Cheerios.
Crispix Cereal. This can generally be found at your grocery store.
Kix Cereal. Can also be found at the grocery store.
Gluten Free Party Mix (& Dairy Free too)
Ingredients
3 cups Corn Chex cereal
3 cups Rice Chex cereal
1 1/2 cups Kix cereal
1 1/2 cups Krispix cereal
1 cup mixed nuts (optional)
1 cup GF bagel chips, broken up in pieces
1 cup GF pretzel sticks
12 T. dairy free butter spread (we used Earth Balance)
4 T. GF Worcestershire sauce
2 tsp. seasoned salt
1 tsp. garlic powder
3/4 tsp onion powder
1 tsp. garlic powder
Instructions
In a large bowl, mix cereals, nuts, pretzels, and bagel chips. Set aside.
Microwave butter in a small bowl for 30 second intervals until melted.Stir in seasonings to the butter.
Slowly pour butter over cereal while stirring. Stir until evenly coated.
Place parchment sheets over 2 cookie sheets and pour cereal mixture on and spread out evenly
Bake at 250 degrees for 45 minutes. Stir, and then bake for another 30 minutes (up to an hour) or until the butter is soaked in and the cereal is dry. Turn off oven and let the cookie sheets cool for 2 hours.
https://www.positivelymommy.com/2013/02/gluten-free-party-mix-recipe/
The best part of making this receipe was it makes the house smell so delicious and holiday-like.  It's also fun to get the kids involved and they can easily help with this gluten free party mix recipe.  Below you will find the finished product!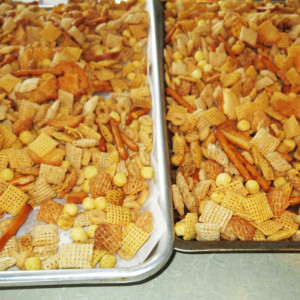 Please post a comment if you have any questions.  Many people ask where I get my cookie sheets with the holes in them (used for better airflow).  I get them at a local store called the Bosch Kitchen Center.  They are very inexpensive ($10 or so) and I think they work amazingly well for recipes like this or for drying foods (like apples or bananas).  It kindof eliminates the need for a food dehydrator which I really like because I don't really have room for one.