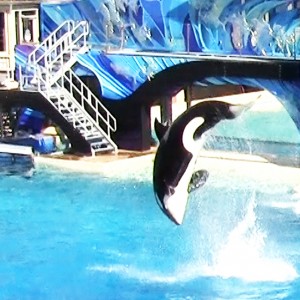 Our family went to Sea World San Diego in November of 2012 and we had lots of fun! I think Sea World is a great destination for families to see and explore.  It makes for a special day and lots of quality time with the kids.  We were already in the area as we went to Disneyland for a few days before Sea World.  We enjoy both of those parks for different reasons and they are unique in their own ways and provide different experiences for families.
I think the shows are probably the best sea life shows in the world.  The animal trainers are amazing, and the shows are so entertaining as well as informative.  There are great exhibits and some fun rides. There is also a special park with water features and rides for young children.  Our family didn't have time to go there, but it looked like lots of fun!  Our family went on the roller coaster (which was great fun).  Our main aim was to see all the shows.
Here's my top 5 things to do as a family at Sea World as well as videos and photos to help you plan your next family vacation.  There is one caveat.  They do have a program that your child can swim with a dolphin.  I really wanted my 11 year old to do it, but she wouldn't.  I think that would have been a major hilight if she would have.  But, since she didn't, I can't really suggest it.  Have you done it?  If you have please post a comment and tell us about it!
See everything there is to see at Sea World by watching this quick tour brought to you by Positively Mommy.
#1 Seeing the Dolphins
There are several ways you can see dolphins at Sea World.  They have a dolphin Show called Blue Horizons (listed as #2), they have exhibits where you can see dolphins up above and in the water, and then you can go down and see them in an underwater tank up close and personal.  You can also see trainers teaching new dolphins how to do tricks.  I think dolphins are beautiful animals and its a pleasure to see them in person.  As mentioned above, Sea World offers a program where your child can swim with the dolphins (around $100 for 30 minutes) for ages 8+.  I think that would be an amazing experience, but we weren't able to do that on this trip.
#2 Blue Horizons
Sea World San Diego does sea life shows like no one else on earth and each one is breathtaking and each one has a different feel.  My favorite show was Blue Horizons.  It's quite a production and uses dolphins, birds, and killer whales along with people dressed in costume (like birds).  It follows a story of a girl and has acrobatics and stunning soundtracks.  The show had such a magical feeling to it.  As you can see in the video, the water was sparkling and it the show was just amazing.
#3 The Shamu Story
We attended 4 shows at Sea World (Blue Horizons, Shamu Story, Pets Rule, and Sea Lions Live Comedy Show).  They were all fantastic, but you can't go to Sea World without seeing Shamu the killer whale!  This show tells all about killer whales with facts and actions.  The trainers show how they take care of the whales and keep them safe.  Some of them have been rescued from the wild and nursed back to health at Sea World.  I enjoyed the show immensely and learned a lot about killer whales.  My kids really liked it too.  They didn't sit in the "splash" zone, but I wasn't able to convince them.  I saw lots of kids wearing ponchos in the splash zone, so you might want to bring one along for the shows if your kids don't want to walk around soaked!  Below is the full video of the Shamu Story show at Sea World.  If you want to see more of Shamu, they also have "dining with Shamu".

#4 Visiting the Aquariums
Our family enjoyed walking through the aquariums at Sea World.  There were some amazing things we saw like sharks, jellyfish, penguins, turtles, while whales, dolphins, etc.  There are many exhibits which allow you to walk underground and view the sea life under the water.  It's absolutely breathtaking.  One aquarium also had a moving walkway that was all glass and you could see all types of fish and sea plants.  Amazing!  This aquarium houses killer whales.  Awesome, isn't it?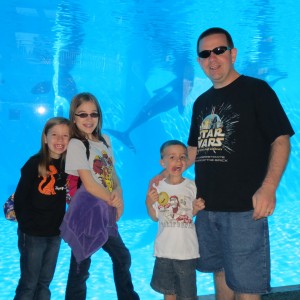 #5 Sea Lions Live Comedy Show
There were so many things we liked about Sea World, it's hard to fit them all into a top 5, but the Sea Lions Live Show was really funny and we enjoyed it a lot.  We went just after Halloween so they still had their Halloween skit complete with Sea Lions dancing Michael Jackson's Thriller.  One huge tip I have for you, is to go to this show at least 30 minutes early.  There is a warm up comedian that plays jokes on unsuspecting park goers, and it is hilarious!  I didn't get a video of the warm up show, although I wish I did.  I do however, have the full Sea Lions Live Show in the video below.  Enjoy!
Please let me know if you have any comments or questions about Sea World San Diego by posting a comment.  I'd be happy to answer any questions or give advice to help you plan for your next family trip to Sea World.