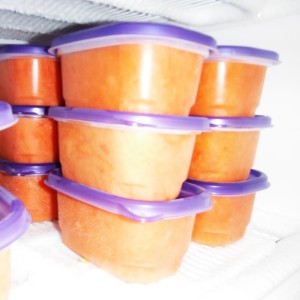 I was at the grocery store the other day looking to buy some jar lids in the canning aisle, when I happened upon instant pectin! Talk about a breakthrough for me, I was so excited to see it there!  Instant pectin means you do not have to cook the fruit and the pectin together to make freezer jam.  Therefore, one less dish to get dirty and it's about 15 minutes faster.  One jar of this pectin makes about 12 one and a half cup servings of freezer jam so that is so YUMMY!  It took about an hour for me to make the 12 jams, which I consider to be very fast when it comes to making such great tasting and great looking jam.  I got the peaches for $3 a case, so I figured out each container costs about .75 cents to make.  The container itself was .50 cents. It's very easy to make this no cook peach freezer jam recipe.  Here's how:
STEP #1
Mix 3T. instant pectin and 2 1/4 cups granulated sugar in a large bowl (I used a white version of this Tupperware Bowl).  Set aside.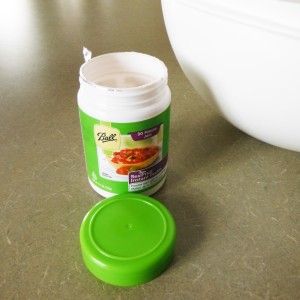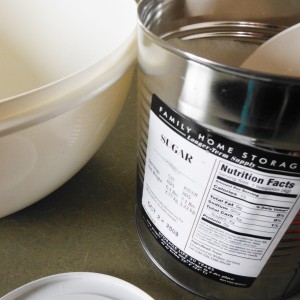 Step #2
Boil water in a large stock pot or dutch oven.  Add 10-12 peaches to boiling water.  You want the peaches to be soft to the touch.  If they are hard, the peaches will not peel and the jam won't taste very good.  Let sit 2 minutes and then peel skin off of peaches and discard skins.  The skins will come off very easily, just rub the skin lightly and it should all come off in 1 or 2 pieces.  You can see my peaches are not perfect.  They are just going to be pureed so any peaches of any quality will do as long as they taste good.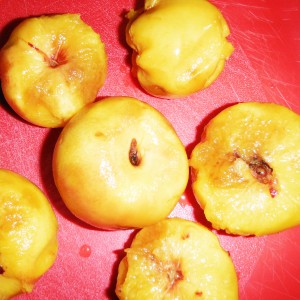 Step #3
Remove peach pits and place peach halves in a medium bowl with 1 T. lemon juice ( I used the bottled stuff) and 1 tsp Fruit Fresh (optional) to prevent browning and to make the jam a pretty bright orange color.  I used a stainless steel mixing bowl to mix it in.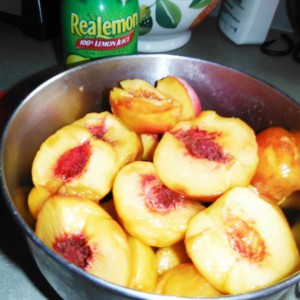 Step #4
Use your immersion blender or food processor to blend peaches to desired consistency.  I like chunky.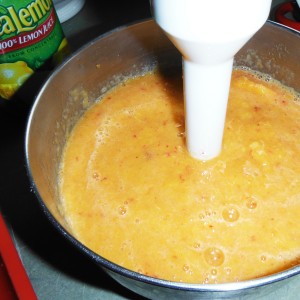 Step #5
Add 5 1/2 cups fruit to the sugar and pectin mixture and then stir together for 4 minutes.
TIP:  You can put in a little Kool-Aid to enhance the flavor and color of this peach freezer jam recipe.  I added about a teaspoon of orange Kool-Aid to this peach freezer jam and it was quite tasty!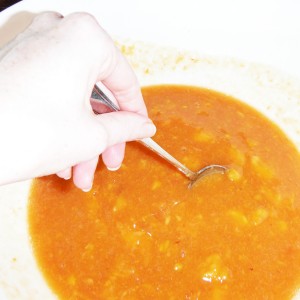 Step #6
Fill storage containers (I used disposable ones because they were cheaper and I plan to give these away as gifts, but you can also use canning jars if you would like).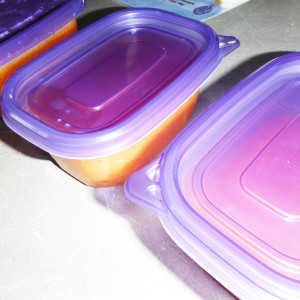 Step #7
Let sit on counter for 30 minutes to set, and then put in freezer.  I like the disposable containers because they can be stacked in the freezer.  Enjoy!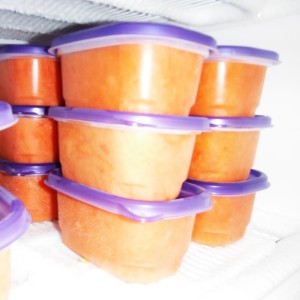 You eat this jam straight from the freezer.  No need to put in the fridge to soften or anything.
Disclaimer: **Positively Mommy occasionally provides recipes and other information about food preparation. Please keep in mind that it is the reader's responsibility to determine the value of these recipes, nutritional and otherwise. It is also the reader's responsibility to determine the safety of the preparation instructions. Recipes are prepared "at your own risk." We assume no liability, obligation, or warranty with respect to these recipes. Positively Mommy is not responsible for any damage, medically or otherwise, that could result from preparation of these recipes. Visitors must take care to check the instructions provided and determine their value and any possible medical condition that may arise from the preparation instructions and consumption of the ingredients listed in this site's recipes.