HOW TO GO GLUTEN FREE
Since going Gluten Free (GF) 3 years ago, many of my friends, neighbors, and friends of friends have contacted me for help about how to go gluten free.  Why?  Because frankly going gluten free is overwhelming.  It seems like wheat is in everything these days.  Many of my friends feel like the "good life" is now over and they will have to eat hard, dry, gross food from now on.  But these days, that is just not the case, there are so many wonderful resources out there for families who are going gluten free.  I'd like to share my favorite resources with you!
First, find a health food store near you and start experimenting with different gluten free foods.  See which ones you like and then start buying them in bulk on Amazon.com.  Amazon has been a huge resource for me since going gluten free.  I can find all of my favorite gluten free foods on there and can get free 2 day shipping with Amazon prime.  I always use the subscribe and save as well to save an additional 15%.  I save a lot of money this way (gluten free can be quite pricey) and I save time because I don't have to pack all the kids up in the car and drive to the store.  I also save money on tax.
By making my own GF bread using a mix and a bread machine, I save about $3 a loaf and it tastes a whole lot better than what you can buy at the health food store. I also make make quick breads in the machine and they are quite tasty.  For times when I am unable to make bread, I buy Udi's or Rudi's bread in the freezer section at the health food store.  Those 2 brands are by far superior to any other type of gluten free bread.  They make awesome toast and sandwiches.
Since going gluten free, I have established some favorites and if you are wondering how to go gluten free, these might help you along the way.  I also feel like I've been a lot more healthy since going GFDF and I feel a whole lot better too (no more debilitating stomach cramps)!
GF BREAKFAST IDEAS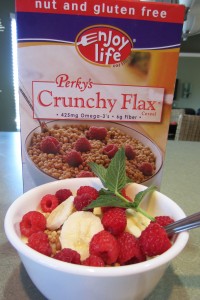 1. Yogurt (we use coconut milk yogurt) see the recipe here
2. We eat a lot of eggs since going gluten free. They are a complete protein and give you a great start on your day and extra much needed energy.
3. I love toast and jam for breakfast
4. Here's a list of some boxed cereal that is gluten free that is gluten free (check the label to make sure as sometime ingredients change): Rice Chex, Corn Chex, Trix, Lucky Charms, Rice Krispies, Krispix, Kix, Cornflakes, Capt'n Crunch
5. Certified Gluten Free Oats with berries.  They even make them in the little individual packages if your kids like those.  Find them here.
6. Smoothies. We have a lot of smoothie recipes on our blog, so check them out!
7. Rice Pudding or fruit crisps
8. GF quick breads
9. Any type of GF grain can be cooked with water and made into a porridge.  I like quinoa.
10. GF Granola (either homemade or purchased at the health food store)
11. GFDF Waffles or pancakes made from a mix
LUNCH IDEAS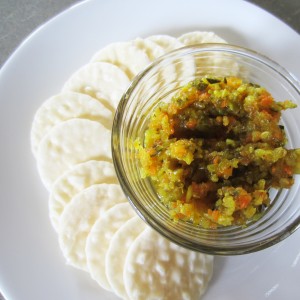 1. One of my favorite lunches these days has been rice crackers with relish or tuna or peanut butter spread on the top.
2. Grilled cheese with GF bread and DF cheese
3. GFDF Fruit Sandwiches are very kid friendly
4. Corn tortillas with DF cheese and GF pepperoni or GF lunchmeat
5. Leftovers from dinner 🙂
6. We like beef Taquitos from Costco that are GFDF in the frozen section
7. Campbell's chicken and rice soup is GF.  I also like this ramen type (only healthier) Thai Soup
GLUTEN FREE DINNER IDEAS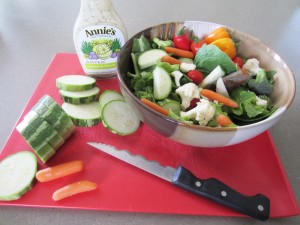 1. We eat salads a lot for dinner: taco salad, pasta salad, green salad, jello salad.  Here we've used Annie's Lemon and chive GFDF salad dressing.
2. Gluten free pasta.  My favorite brand is Tinkyada.  Gluten free pasta takes a little time to get used to and tends to fall apart after the first day you eat it.  Just make sure to cook it aldente.
3. Tacos on corn tortillas
4. Any type of meat: chicken, pork, steak, fish (be careful of seasonings and sauces to make sure they are GF
5. We eat quite a bit of Asian type meals served over maifun or rice noodles. These are great because they don't even need to be cooked, just soaked in hot water. So easy! Also, for Asian cooking, be sure to use Tamari and not soy sauce (soy sauce has wheat in it).  I think Tamari tastes better too.
6. Soup – We make a lot of Chicken with rice, vegetable beef, chili, and tomato soup
8.  Hamburgers or GF hotdogs without the bun
9.  One of my go to meals is meat with GF Gravy and served over brown or white rice. I make this when I'm out of ideas and time. I even used canned meat (don't tell anyone!).
10. I like these rice paper wrappers for filling with meat and baking or deep frying.
Check the websites I follow (below) for more recipes
GLUTEN FREE DESSERT IDEAS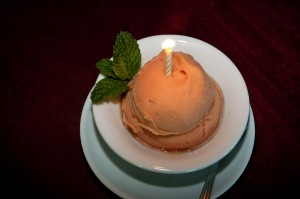 1.  There are all kinds of yummy fruity sorbets that are gluten and dairy free that can be purchased at any grocery store.  I like Haagen Daas Mango.
2. Gluten Free Oreos. These are my biggest vice, but they are so good! They are very close to the real thing and I love them. We go through a case of them in a couple months (my kids eat them too, so it's not all me, ok?!)
3. I love these gluten free Lemon Wafer Cookies
4. This flourless peanut butter cookies recipe is something we bring a lot when we are invited to other people's house for dinner. Guess what? You can't even tell they are gluten free. Most people like them better than their glutenous counterparts. Feel free to add anything you'd like to them (Chocolate chips, nuts, m&m's, GF oats… you get the picture)
5. This recipe I saw on Martha Stewart and it's very decadent Flourless Chocolate Cake. It also takes a long time to make, but it's worth it when you have that sweet tooth! I served mine with some homemade strawberry compote and some whipped coconut milk. I got lots of raves about it and no one knew it was gluten free!
6. Betty Crocker makes a lovely cake mix. It only makes one round, so keep that in mind. They also have a mix for brownies and cookies.  We used the Betty Crocker mix in these cupcakes.
GLUTEN FREE SNACKS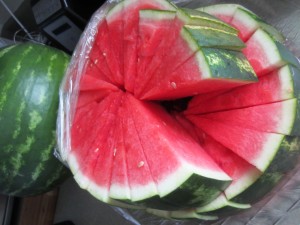 1. Since going gluten free we eat a lot more fruit than we used to.  It satisfies that sweet tooth and you don't even have to read the label.  It makes shopping easier too, right? Of course, we can add vegetables to this list. We like to snack on carrots and peanut butter or bumps on a log with celery.
2. My kids and I love to snack on Gluten Free Pretzels. These ones taste really buttery which I like. Because some gluten free snacks are so pricey, you really do have do work some portion control into your snacks.
3. Fritos are my favorite midnight snack (shh! please don't tell my kids). Bugles, corn strips & salsa, and most plain potato chips are gluten free (check the labels to make sure). Have you tried the salt & pepper kettle chips? Yum! Oh and these Tings Chips are a lot like Cheetos and satisfy my ever growing crunchy, salty, cheesy tooth. That's the tooth next to my sweet tooth!
4. Nuts like almonds, pistachios, walnuts, and even peanuts make great and healthy snacks. Better yet, make your own gluten free trail mix.
5. Rice crackers (mentioned above)
6. Raisins and other dried fruit make great snacks. We really love Funky Monkey dried fruit packs. They are great for backpacking and car trips too!
7. Fruit snacks are generally gluten free (again check the labels)
GLUTEN FREE FLOURS
Anyone could get overwhelmed by looking in the gluten free flour section.  I swear there's at least 20 different kinds to choose from and it's confusing!  How about simplifying and just buying 1, that's what I'm talking about!
This is the Gluten Free flour I use in recipes.  If you can't find this one, any gluten free featherlight flour from the health food store will work.  I don't use gluten free cookbooks per se. I just cook the recipes I want and substitute in gluten free ingredients.  I never use any other ingredients (potato starch, expandex, rice flour, nut flour, etc), I use this one blend for everything from baking to sauces.  It makes things easy.  I like easy!
OTHER RESOURCES
1.  I follow this slowcooker blog. I love using my slow cooker and Stephanie (the blog owner) and her family are GF, she shares many family friendly meals and I have tried a lot of her recipes and they have all been very good. This is a very good resource!
2. Another great blog is gluten free goddess. She tends to post recipes for foodies and the best ways and methods to cook gluten free.
3. I find GFDF recipes on Pinterest all the time. I like being able to save my pins and refer to them later.
4. Google has been an invaluable resource as you can find just about any recipe GF or not. What did people do without Google?!
5.  I think this book is valuable for people who are just starting gluten free to help them understand the health benefits and HOW to acutally attempt this seemingly ginormous feat.  Elizabeth Hassleback is very down to earth and personal.  I think some of the recipes she give in her book are a little too fancy for me.  But the information in the book was very very good.  For $6 it's worth it!
Please feel free to comment with any questions about how to go gluten free
and I will answer them to the best of my ability!
**Positively Mommy occasionally provides recipes and other information about food preparation. Please keep in mind that it is the reader's responsibility to determine the value of these recipes, nutritional and otherwise. It is also the reader's responsibility to determine the safety of the preparation instructions. Recipes are prepared "at your own risk." We assume no liability, obligation, or warranty with respect to these recipes. Positively Mommy is not responsible for any damage, medically or otherwise, that could result from preparation of these recipes. Visitors must take care to check the instructions provided and determine their value and any possible medical condition that may arise from the preparation instructions and consumption of the ingredients listed in this site's recipes.