On Episode 3 of Cooking With Kids, we made a birthday cupcake tower fit for a princess.  We used 2 cake mixes (however in retrospect we could have made one large round layer and 12 cupcakes out of 1 cake mix).  We froze what we made the night before and then decorated the finished product in this video.
Cooking With Kids Video
Products we Used
1. Wilton Jumbo Confetti Sprinkles + assorted other sanding sugars in the same color of the frosting you choose.
3. silver cupcake holders
4. 2 tubs of frosting, mixed to the colors you desire
5. 1 layer of a round cake mix and 10 cupcakes (frozen so it's easier to frost)
6. We used the Spritz brand candles from Target, but these are similar.
This particular cake was not gluten free because we were taking it to a party where not everyone enjoys eating allergy free.  Kaylee is not allergic to gluten (our older daughter is) so we made her a "regular" cake which she really enjoyed.
The video was filmed by kids, can you believe it?!  There was a cute audience and helpers consisting of 3 young children.
And, last but not least, please don't look at my fingers that are stained turquoise!  I was spray painting an outdoor bench the morning before the video was filmed and no matter how many times I washed my hands, it wouldn't come off.  Why didn't I think of wearing gloves?
Here's an ariel shot of the cupcake tower so you can see what it looks like from the top.  It's quite tall when finished, probably 16-18 inches and then the cake plate adds a few more inches.  If you like our cake plate, here's where we got it and it inverts into a punch bowl which comes in handy.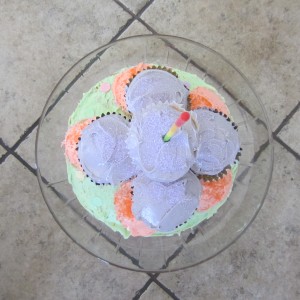 If you have any great cupcake decorating ideas, please share them with us in the comments!
**Positively Mommy occasionally provides recipes and other information about food preparation. Please keep in mind that it is the reader's responsibility to determine the value of these recipes, nutritional and otherwise. It is also the reader's responsibility to determine the safety of the preparation instructions. Recipes are prepared "at your own risk." We assume no liability, obligation, or warranty with respect to these recipes. Positively Mommy is not responsible for any damage, medically or otherwise, that could result from preparation of these recipes. Visitors must take care to check the instructions provided and determine their value and any possible medical condition that may arise from the preparation instructions and consumption of the ingredients listed in this site's recipes.