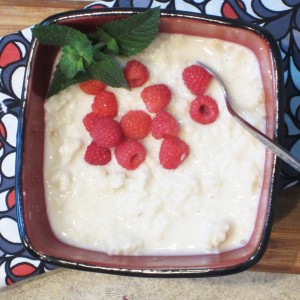 Sometimes at our house, we are lacking good breakfast ideas.  I'm always looking for something healthy, yummy, and of course gluten free and dairy free (GFDF).  Believe it or not, this is also sugar free.  It has the natural Agave sweetener in it, but this dish is naturally sweet.  We made the rice the night before and had it with dinner, so it made this recipe even easier to make.
I made this vanilla bean Rice Pudding recipe for our neighborhood Book Group yesterday and it was a big hit.  I'm not sure what they liked more, the raspberries from the garden or the rice pudding though.  We have about 10 raspberry bushes in our garden and boy are they producing like crazy.  We get 2-4 pints of raspberries a day.  I have sent some to the freezer and have used some for smoothies, but mostly we eat them and they are delicious!
If you are not dairy free, by all means use 2% cow's milk.  The almond milk gives the pudding a slightly nutty flavor that I like, but the recipe will still taste good with other types of milk.  I have tried using rice milk before, but it's just too thin.  Coconut milk works well.
Breakfast Ideas: Vanilla Bean Rice Pudding
Ingredients
6 cups cooked white rice (make it on the dry side so it will soak up more liquid later)
1/2 gallon almond milk, divided (you may need a little more or a little less)
4-6 T. agave nectar
4 egg yolks, whisked
2 vanilla beans, scraped
zest of 1 lemon
2 tsp. vanilla extract
Fresh fruit for topping
Instructions
Add rice, 4 cups of almond milk, agave, egg yolks, and vanilla beans to a large stock pot over medium heat. We used a French Dutch Oven. When mixture comes to a boil, stir well, turn to low heat, simmer, and cover for 20 minutes. After 20 minutes, stir mixture well and if the almond milk has been soaked up, add 1-2 cups more. If not, put the lid back on and keep cooking. Keep checking every 20 minutes and add more almond milk if needed. After 2 hours, add lemon zest and cook for another 20 minutes. Serve with fresh berries.
https://www.positivelymommy.com/2012/06/breakfast-ideas/
This recipe served 13 happy people at our book group and we had enough leftovers for breakfast for a couple days.  If you'd like less, you can 1/2 the recipe.  Leftovers will last a few days in the fridge.
How to Split a Vanilla Bean
Someday I will do a whole post about this with photos.  Vanilla beans look a little intimidating but they are so easy to use and they are so so so fantastic.  If you want to make a recipe pop, the flavor of these babies are intense and gratifying.  It's a comfort food for me!
1. Using a sharp knife, cut bean in 1/2 width wide (around the equator).  Be careful to tuck your fingers in so you don't cut them, this is delicate work so be careful!
2. cut each side in 1/2 lengthwise and open up the sides to reveal what's inside.  Get the sides down as flat as possible.
3. scrape the seeds out of the vanilla bean with the top of your knife and add to your rice pudding (or other dessert)
4.  don't discard those empty pods, throw them right in the pan so that all the seed get in your dish (and then fish them out later and throw them away at that point).  You can also put the scraped seed pods in an air tight container with a few cups of sugar in it and then shake it up and in a couple weeks you will have vanilla sugar.  You can use this in just about anything and it's so yummy!
**Positively Mommy occasionally provides recipes and other information about food preparation. Please keep in mind that it is the reader's responsibility to determine the value of these recipes, nutritional and otherwise. It is also the reader's responsibility to determine the safety of the preparation instructions. Recipes are prepared "at your own risk." We assume no liability, obligation, or warranty with respect to these recipes. Positively Mommy is not responsible for any damage, medically or otherwise, that could result from preparation of these recipes. Visitors must take care to check the instructions provided and determine their value and any possible medical condition that may arise from the preparation instructions and consumption of the ingredients listed in this site's recipes.