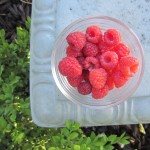 Breakfast ideas aren't always easy to come by at our house.  I'm  not really a morning person, so I'm pretty much in slow motion in the morning.  The kids generally eat oatmeal or boxed cereal for breakfast and I usually have a smoothie, an egg, or a piece of toast after I've had a chance to wake up.
As of late, It's kind of a tradition in our family to get up early and go outside with Mom to the backyard and pick yummy raspberries straight from the bush and then come in and eat them for breakfast. My kids get so excited to do this little ritual (and I have to admit, I think it's fun too!).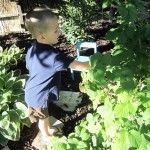 I  can't think of anything I'd rather have than fresh fruit for breakfast.  My daughter and I came up with this recipe by accident one day and it was really tasty.  Its gluten free and dairy free so it shouldn't cause allergy-sufferers any problems. We'd love to share it with you.
1.5 cups Soy yogurt (we use silk brand vanilla)
1/4 cup  Perkys Crunchy Flax (this is similar to Grape Nuts, only better and not so chewey)
1/4 cup raspberries
1/2 banana, sliced
Layer these ingredients in your bowl and enjoy!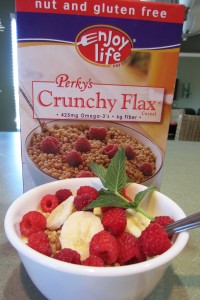 If you have any great breakfast ideas, please let us know by posting a comment!
**Positively Mommy occasionally provides recipes and other information about food preparation. Please keep in mind that it is the reader's responsibility to determine the value of these recipes, nutritional and otherwise. It is also the reader's responsibility to determine the safety of the preparation instructions. Recipes are prepared "at your own risk." We assume no liability, obligation, or warranty with respect to these recipes. Positively Mommy is not responsible for any damage, medically or otherwise, that could result from preparation of these recipes. Visitors must take care to check the instructions provided and determine their value and any possible medical condition that may arise from the preparation instructions and consumption of the ingredients listed in this site's recipes.