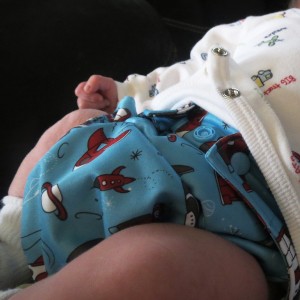 While my husband and 13 year old were on a vacation, I decided to cloth diaper our one year old baby (I had decided to when he was first born as well, but never followed through). At that time, he had a horrible rash on his entire stomach all the way up to his chest as well as on his legs. My other kids have been very sensitive to bleach and I suspected he was even more sensitive than they were. I asked the doctor about it and he said he could prescribe a steroid cream. I am not even remotely interested in trying steroid creams as I feel the risks outweigh the benefits and I would rather find the source of the problem than treat the symptoms which is all steroid creams can do.
Within 2 days of cloth diapering, the itchy rashes on my little guy's belly were completely gone. Within about a week and a half, the rashes on his legs were gone too. I admit there is a bit of a learning curve with cloth diapers and finding a routine that works for YOU (and not someone else), is vital. Now that I am in the habit, it's no big deal at all and I figure it takes me about an hour a week in extra time. It also saves money. We will save about $1000+ by cloth diapering over the next 2 years. Cloth diapers have a robust after market value as well (especially Grovia), so once you are done, you can sell them for half of what you bought them for, and sometimes more!
I set off on a mission to find the best cloth diapers. I have tried 20-30 different types of cloth diapers and have narrowed down the best one in each category.  They are in no particular order. If you would prefer to skip my written commentary, please feel free to watch the video instead!
TOP 5 CLOTH DIAPERS
Some affiliate links follow.  I was given free samples of some of these diapers, but I am giving my true and honest review of each.
Best Pocket
Baby Kicks Premium pocket diaper, color is called "Poppy"  (buy on Amazon)
Buy on Baby Kicks Site
Pocket diapers are the most popular type of cloth diaper on the market.  They are easy to use and very effective.  There is usually an outer shell that has an opening in which an insert is stuffed in.  The top portion wicks moisture away from the baby onto the insert.  You remove the insert before washing.  Here are some details about the Baby Kicks Premium pocket diaper:
Cost: $21.50
Comes with JoeyBunz pocket insert AND a stay dry liner
Made from 30% certified organic cotton and 70% rayon bamboo.  The inside is velour.
This is a one size (OS) diaper for 7-40 pounds and has a snap rise
Awesome, soft leg gussets called "air" – no red marks
Front pocket opening (most other diapers have their opening in the back.  You decide which you would like better)
Side snaps (also available in Velcro) – no wing droop
Very trim
Waterproof PUL cover
Very soft!  Like ridiculous soft
Very minimal pilling
No leaks
Made in China
Best All in One
Grovia AiO, print is called "Pudge" (buy on Amazon)
Buy on Grovia's site
All in one means everything is sewn in and attached.  No stuffing needed.  This is a really easy way to cloth diaper (but may have longer drying times and the cover needs to be washed every time the diaper is soiled because it is all one piece).
Cost $24
Comes with everything needed to diaper the baby sewn in (and a snap in/out doubler)
Made from organic cotton
This is a one size diaper for 10-35 pounds and has a snap rise
Soft lining (no red marks)
Thermal laminated waterproofed outer shell, called TPU (no solvents or formaldehyde involved in the process) – YAY!
Side snaps – no wing droop
Attention to quality and detail are apparent
No leaks, very absorbant
Very trim
No pilling
Doesn't take a long time to dry
They seem stain resistant to me
Made in China
Best All in Two (Hybrid)

A hybrid or all in two (Ai2) is a 2 part system, usually involving snaps which keep the soakers in place (yes!).  Hybrid's and All in Twos are my personal favorite type of diaper.  I like that you only touch the dry part to unsnap and I like that you can reuse the covers because that means less laundry and less wear and tear on the covers.  And, I'm all about less laundry and diapers that last the long haul.
Grovia Hybrid cover and soakers, print is called "Surf" (buy on Amazon).
Buy on Grovia's site
Cost $33 (but comes with 2 soakers) – so you get 2 uses out of this set
The soaker is made from organic cotton (or alternatively choose the stay dry soaker which is not organic cotton, but is unbleached)
This diaper set is one size for 8-30+ pounds.  It has snaps on the front (called a snap rise) for size adjustment
Comes in Velco (also called Aplix or Hook and Loop) or snaps.  I like Velcro for my squirmy, busy guy.  It's faster and a more custom fit.  I find it friendlier for my hubby and my daughter to put on too.  Velcro diapers will show more wear (pilling on the fabric), but they are really nice in the short term.
Laundry tabs for velcro (genius!)
Mesh on the inner cover helps keep leaks at bay
Snap-in and stay in place soaker has TPU backing so the cover never gets soiled when baby wets.  When baby poops, I alway need to wash the cover.
Cover dries almost instantly, but the soakers take quite a long time to dry.
No leaking.  These are amazing diapers!
No pilling
Very trim.  You can hardly tell the baby is wearing a diaper.
Made in China
Honorable mention in the Ai2 category:  Happy Endings Eco Diapers made from charcoal bamboo (a little larger than Grovia in the trimness factor, but they are very effective and nearly a third of the price).  And, no stains, ever. $11.  They have AWESOME prints and are one size with a snap rise.  They have double leg gussets to combat leaks. They dry very quickly.  I am still on the fence about whether I love or hate microfiber right now though.  The fabric does "pill" if that bothers you.  This is a normal occurrence with many styles of diapers.  As a bonus, these can be used as a pocket or an Ai2. Here's a link to buy on Amazon if you wish.
Best Overnight Diaper
I have tried so many overnight diapers which make my son look like a bull-legged marshmallow man.  I'm serious.  It's insane.  And, on top of that, they leak.  Just sayin' my son sleeps 14 hours, so I wasn't expecting a ton, but this diaper was the best and the trimmest of all of the ones I tried.
HappyEndings Eco Diaper, "Night, Night" diaper, Mine is the "ABC's" print which is no longer available (buy on Amazon)
Buy on HappyEndings Eco Diaper site
Cost $16 + comes with soaker
Made from charcoal bamboo which is naturally antimicrobial, antifungal, and antibacterial
One size diaper with a snap rise
Stay dry layer protects baby's skin from wetness
Has a sewn in overnight booster that ROCKS!
Double leg gussets
Trim fit for a night diaper
Customizable to your needs
Use as an AiO diaper if you are not using it at night
Has a back pocket to stuff the insert into
Effective as a night diaper, even with a heavy wetter
The fabric "pills"
Not technically organic, but is so much more effective than any organic overnight diaper I have tried.  Charcoal bamboo is not bleached and is a natural material that is great for sensitive skin.
Made in China
Best Fitted / Prefolds
A fitted is made from all fabric with snaps (no cover).  A prefold looks like an awesome burp cloth.  People tend to choose fitteds and prefolds because they are easy, very customizable and budget-friendly.
OsoCozy Fitted – Choose appropriate size (buy on Amazon)
Oso Cozy Fitted (buy on clothdiaper.com)
OsoCozy Prefold – Choose appropriate size (buy on Amazon)
OsoCozy Prefold (buy on clothdiaper.com)
Cost for organic SIZED fitted $10, Cost for prefold $3.50-$5 depending on size
Choose your size and get a custom fit for your baby
Prefolds are made from 50% bamboo and 50% cotton
Lint free
Covers more surface area, so it absorbs more (great for heavy wetters)
The fitted comes with a sewn in soaker
Birds Eye Weave fabric on the fitted
Easy to use
Easy to wash
Needs a cover (get double gusseted covers here for under $8.50)
The quality is absolutely untouched with OsoCozy.  Their fabrics are thick and absorbent and so, so soft.
You can use the prefolds as a doubler or as a soaker with the addition of a cover
Keep in mind these diapers will shrink 10-15% when you prep them
Made in the USA
If you have any questions, please post a comment and I would be more than happy to answer or help in any way I can!