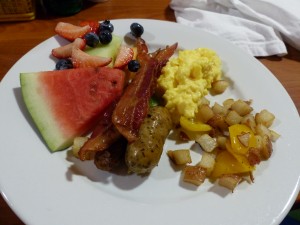 Eating gluten free at Disneyland is easier than any other theme park on earth.  They have even won awards for being food allergy-friendly!  Disneyland makes it pretty simple for us and if we are at all worried, we bring our own food.
Disneyland does not let people bring in food, but if you have an allergy – here is the official statement from their website, "Guests with food allergies or intolerances are allowed to bring food items into any Disney theme park. Please inform the Security Cast Member at bag check that someone in the party has a food allergy or intolerance." Easy!
Here is a list of places you can eat GF easily. Expect your food to take about 30 minutes to prepare because they have to make it fresh.
Here are some do's and dont's I have learned over the years eating gf at Disneyland.
DO
Get a restaurant list at City Hall for a list of restaurants and open-air cafe's at Disneyland that offer gluten free food.
If you plan to do Character Dining (which I completely and wholeheartedly recommend), choose the ones that aren't buffets.  The chef will come speak to you personally and tell you what they can make you that is GF.  Ariel's Grotto, Storytellers Cafe, and Plaza Inn were all very accommodating to our GF/DF allergies.  If you do go to the buffets, the chef will personally show you what you can eat there.  I have been to all of the character dining restaurants.  If you have any questions about them, please post a comment.
In terms of treats, there's not much of a variety (at least that I've found).  We enjoy a Dole Pineapple Float at the Tiki Room (GFDF) every time we go.  I am dairy free as well as gluten free, so that limits me from most treats.
Bring GoPicnics.  This can save you time and money and they are delicious and protein rich to keep your energy up.
DON'T
Expect every cafe to accommodate your dietary restrictions.  There are certain ones that will and certain ones that won't (see link above).
Forget to bring snacks with you!
Expect food to be GF if you have not asked the chef.
Here is a video of the Chef taking me through the buffet at the PCH Grill to show me the GFDF options.
If I missed anything, please let me know!