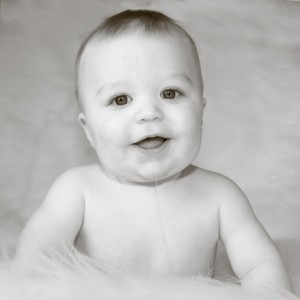 I know we all have our favorite things when it comes to baby toys and just all-around great products that makes out lives easier.  Here are my top 5!
These are my son's favorite 2 toys
What baby doesn't like to look at himself in the mirror? My little guy LOVES this toy. He plays with it every day and always enjoys it. He plays with it so much, he gets his cute little slobbery fingerprints all over it!  It's always the first toy he goes for when he plays.
Our little guy always goes for this rattle made from safe plastics.  I like it because it doesn't have an annoying rattle sound, it's pretty quiet (except for when it's banged on the hardwood floors over and over and over and….).  He also likes the other high quality cornstarch toys Green Sprouts sells.
My feeding favs
So, I think THIS is the most genius invention ever.  You can put soft food into it and simply hand it to the baby and they can suck on it as much as they want and they won't choke on the food inside.  This little device makes our family dinner SOOOO much easier.  My son gets so excited when we hand him his Kidsme Food Feeder all full of yummy bananas.  It washes up very well in the dishwasher as well.  We have 2, so one can be in the dishwasher while he is using the other one.  It has a cap so you can travel with it in the diaper bag if you wish.  I think it is also really great for teething babies.
I also like this mash and serve bowl for convenience in feeding my baby homemade food.  He eats avocados and bananas often and this little device makes it very easy for me to mash them and then feed them right to him (without getting another bowl dirty).  It washes up nicely in the dishwasher as well.
When Mobility is an Issue
My son scoots and rolls around all over the house.  When I need a few minutes to get something done on the computer, or to prepare a meal, I put him in his exersaucer.   This helps keep him safe and in a place where I can watch him and where he can also have a lot of fun.  I can't say enough great things about this as it keeps him upright (better for spitty babies and for digestion) and it's lots of fun for him to jump in and play with.
Well, there you have it, my favorite baby items!  What are your favorites?