Hey there!  I try to cook with one of my kids once a week and they get to choose the meal.  Today, my oldest chose chicken pot pie, the ultimate comfort food.  I had to do some testing and trying to make it gluten free and dairy free… and… the result… it was a humongous hit with the whole family!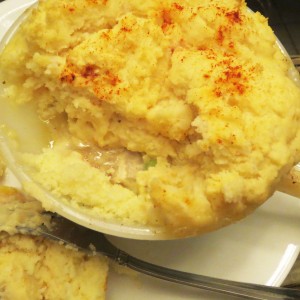 Gluten Free Chicken Pot Pie
Step #1 Cook Chicken
Cook 2 chicken breasts, then remove from pan and chop in bite sized squares.  If it doesn't get cooked all the way through, that's ok, it's going to get cooked more later.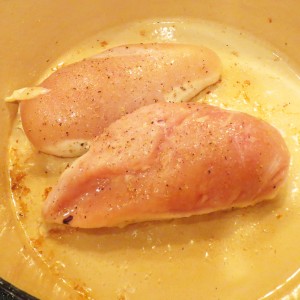 Step #2 Make Sauce
In the rendered chicken fat or dairy free butter, cook 1/4 cup onions until soft and translucent. Stir in 1/3 cup gluten free featherlite flour, salt, pepper, and a tsp. of celery seed. Slowly stir in 1 3/4 cup good quality chicken stock until well combined and then stir in 2/3 cup unsweetened almond milk. Simmer over medium-low heat until you achieve a thin gravy thickness. Add 1 cup frozen mixed vegetables and chicken and cook until just a simmer.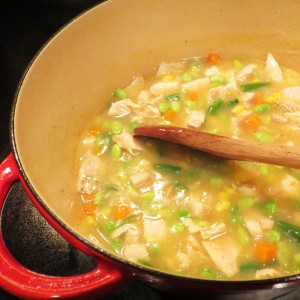 Step #3 Make Topping
I used Bisquick Gluten Free biscuit mix. Just follow the instructions on the back of the box for one batch of biscuits.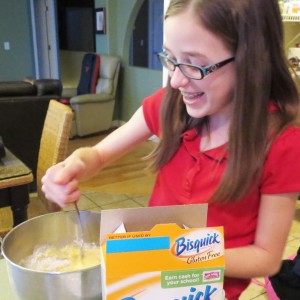 Step #5 Fill Ramekins
Put filling mixture into ramekins and spoon biscuit mix on top using a medium scoop or a table spoon (note:  the biscuits will expand to about twice their size and soak up excess moisture from the meat mix, so make sure not to put too much dough on the top).  I put too much dough on top, so don't follow my bad example!  Top biscuits with a dash of paprika.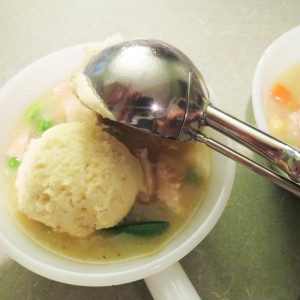 Step #6 Bake, Cool, and Serve
Bake for 20-30 minutes at 425 degrees or until biscuits are golden brown.  Cool 10 minutes before serving.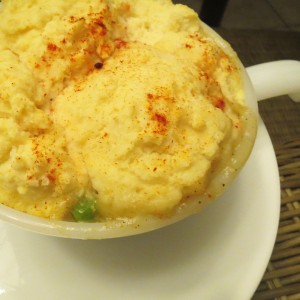 If you have any questions, please post a comment and I will try my best to answer it quickly!