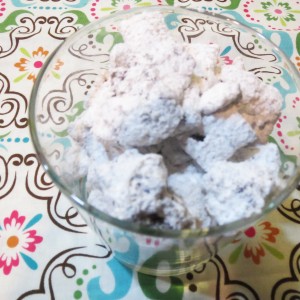 This is a fun recipe to make with the kids.  I altered the recipe from the bette crocker site to make it a gluten free chex muddy buddies recipe.  It is dairy free as well.  Of course you can modify as you wish.  This is a wonderful recipe to satisfy that pesky chocolate peanut butter dessert craving!
Here's the recipe:
3 cups each Corn Chex® and Rice Chex®
3 cups Kix cereal
1 cup dairy free chocolate chips
1/2 cup peanut butter
1/4 cup Earth Balance spread
1 tsp vanilla
1 1/2 cups powdered sugar
Instructions:
1. Measure and mix cereals in a large bowl; set aside
2. Microwave chocolate chips, peanut butter and butter uncovered on High 1 minute; stir. Microwave about 30 seconds longer or until mixture can be stirred smooth. Stir in vanilla. Pour mixture over cereal, stirring until evenly coated. Pour into 2-gallon resealable food-storage plastic bag.
3. Add powdered sugar. Seal bag; shake until well coated. Spread on waxed paper to cool. Store in airtight container in refrigerator.
I'm not sure if there will be any left to store in the refrigerator, but if there is, you know how to do it!
Enjoy!