I buy a lot of spinach.  I eat a lot of spinach.  I might turn into Popeye one of these days!  I try to eat 2 pounds of Organic spinach per week.  Do you know how much a pound of spinach is?  It's a lot.  It's 2 giant costco boxes.  I have a couple tricks for making it last longer (like putting a paper towel in the box to absorb moisture).  I will tell you what though, I hate going to costco twice a week to buy spinach as it's the cheapest place by more than half the price.  So, I came up with a way to freeze it.  It's really easy and all you need is a blender and ice cube trays with lids (preferably).
Here's how to freeze spinach for smoothies
Pour 1 cup of 100% orange juice not from concentrate in the bottom of your blender.  Add 1/2 pound spinach.  Don't be afraid to stuff it in if you have a powerful blender like a blendtec or vitamix.  Blend until liquefied.  Add another 1/2 pound of spinach and blend again.  You can add in some wheat grass juice or chia seeds and blend again if desired.  Pour into ice cube trays.  Put on lid and freeze. If there are any leftover, make a smoothie out of it or put in a pintt freezer bag!
You can use them right out of the ice cube trays or put them in a ziploc freezer bag for easy smoothies later on.  If you skip the oj and use water, I'm sure you could use these cubes in cooking recipes as well.  It's up to you.  With the concept down, you can go to costco less often, yay!
Here's a photo of what the cubes look like frozen:  Just pop them in your blender as is!  This is so easy and a great way to always have enough spinach for smoothies on hand.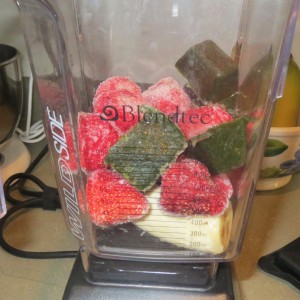 Here's a video from our YouTube Channel that shows techniques about how to make green smoothies.  I know you can't taste it from home, but believe me it was delicious.  And I'm not the only one who thought so, everyone who tried it while I was there said it was good, including a little kid!