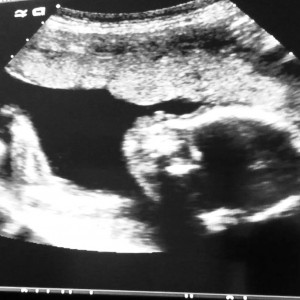 Well, today was the day.  I was impatient and it felt like it took soooo long to finally get to 20 weeks to find out if we have a baby boy or a baby girl floating around in my big belly!  I wanted all of the kids to be there and be able to see what the baby looks like and all the different body parts it's developing. It was a really good experience for us and the technology has improved a lot since my last ultrasound 7 years ago.  The details were much clearer and as you can see from the photo, this baby likes to blow kisses :).
Well, it's official…. no doubt about it, it's  a healthy baby…..
Watch the video to find out!  If you don't want to watch the whole thing, fast forward to the last 30 seconds to see the gender of the baby.
The funniest thing I noticed when I watched the video later on, was my younger daughters reaction.  Priceless!
I guess next on the agenda is picking out a name…  Do you have any good ideas?
Book an appointment ONLINE (yes!) at Utah Valley Ultrasound and the cost for the diagnostic and gender check is only $160! What a bargain. That's half the price of other places I have checked into. The ultrasound technician, Jodi, is really great too.
Click here to see Rachel's 20 Week Ultrasound Video