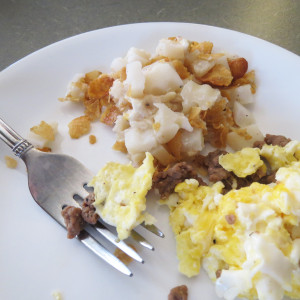 First of all, no one died.  Whew, thank goodness.  Second of all, I think I've mentioned before that I have a thing for funeral potatoes (the cheesy potatoes generally served at Mormon funerals).  I am kindof obsessed with potatoes in general.  Especially since I've been pregnant.  I am craving potatoes just about every day!  I have almost singlehandedly eating 15 pounds of potatoes in the last month.  I know, I have a problem.
Anyhow, it's hard to find a good funeral potatoes recipe for us gluten and dairy freers.  I think I have mastered a good one and I would like to share it with you, but only if you will treat it nicely.
Also, this dish is great for breakfast, lunch, or dinner and I do believe I ate it for all 3.  For breakfast, we ate it paired with scrambled eggs and sausage.  Yummy!
Below you will see a photo of how it should look before it goes in the oven and before the Corn Flakes go on the top.  Also, I should mention this recipe is naturally gluten free as well as dairy free, so it fits in with our family's diet quite nicely.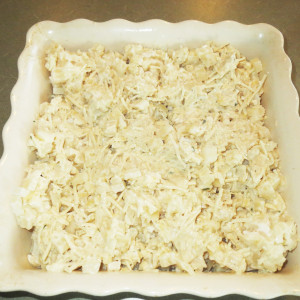 DAIRY FREE FUNERAL POTATOES RECIPE
Dairy Free Funeral Potatoes
Ingredients
3/4 C. almond milk (not vanilla)
1/2 C. chicken broth
1 C. Tofutti brand sour cream
1 1/2 C. white Tofutti brand cheese-substitute shreds
2 lb bag of frozen hash brown squares, mostly thawed
3 C. corn flakes cereal
3 T. Earth Balance dairy free butter substitute
2 T. dried onion
1 T. Garlic
salt and pepper to taste
Instructions
Preheat the oven to 350 degrees.
Grease a stoneware casserole dish. I used a square. You could also use a 9x13 pan.
In a large bowl, mix milk, broth, sour cream, and cheese. Carefully fold in hashbrowns gently until well coated. Spoon the mixture in the prepared casserole dish.
Crush the corn flakes in a ziploc bag and mix in the melted butter. Sprinkle the cereal and butter mixture over the top of the hashbrown mixture
Put foil over the casserole dish and and bake for 30 minutes. Remove the foil, and bake for another 15 minutes. I broiled the casserole for 5 minutes to get a crispy coating on the top. This is optional. Enjoy!
https://www.positivelymommy.com/2013/02/dairy-free-funeral-potatoes/
If you have any questions, please post a comment and I will try to answer as quickly as possible.  I hope your family enjoys this recipe as much as my family did!